Skip Navigation
Website Accessibility
Treats for my Boo!

1 day event, which includes your class kit, lunch and snacks. Create exclusive spook-tacular gifts and decor at Treats For My Boo!
At this Kimberbell one-day machine embroidery event, you'll make three enchanting projects. The Hocus Pocus Gift Pocket is made with bewitching embellishments, and the Treats For My Boo Tote is perfect for Halloween candy and more. Stitch the Spooky Spider Jar Topper while at the event, then go home with a wide-mouth size and Scaredy Cat design to stitch later!
Wednesday October 11.

BLOCK OF THE MONTHS (BOM)
Our Block of the Month's have an optional club meeting on the 3rd Thursday each month at 2pm or 6pm, please RSVP for club meetings. Join us for show & tell or just some chit- chat. If you would like help on any of the BOM's please let us know in advance, so we can be prepared at the meeting. All kits will be available on the 1st of each month. Sign up anytime.
COLOR SPLASH
87" X 99" 8-MONTHS
$28.00 PER MONTH
$10.00
registration.
AVAILABLE NOW.


AMISH WITH A TWIST V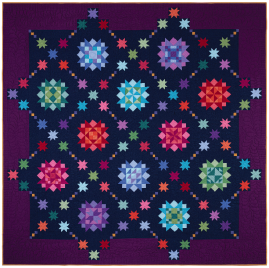 98" X 98" 10-MONTHS
$18.00 PER MONTH
$10.00 registration or
COMPLETE KIT
$185.00
AVAILABLE NOW.
.
VINTAGE SAMPLER
95" X 95" COMPLETE KIT
$240.50
AVAILABLE NOW.
DAWN'S LIGHT
95" X 107" 10 -MONTHS
$10.00 REGISTRATION
BEGINS OCT/NOV
DAYDREAM GARDEN
93" X 101" 8 - MONTHS
$10.00 REGISTRATION
BEGINS SEPT/OCT