Skip Navigation
Website Accessibility
BERNINA Black Friday and Holiday specials start November 17th.
B535 E - Embriodery & Sewing $3499
b64 - AIRLOCK Serger $999
b05 ACADEMY - Sewing only $349
Now though Dec.31 - Q20 sit down longarm on the Horn Lift Table
December 1 - 31 BERNINA feet, hoops & luggage 25% off.
0% financing Nov. 17th - Dec. 31st on purchases of $3000.00 and up.
1
2
d
a
y
s
o
f
C
h
r
i
s
t
m
a
s
S
p
e
c
i
a
l
s
Starting November 20 through December 1 you will receive an email each day by 3am with the Specials of the Day.
It is good for 1 day only!
You have until midnight to respond to the email to let me know how many of that days items you would like, with your credit card info.
You must provide a credit card # with your first item
. You may email or call us with your info. On or about December 2nd I will charge your card & email you a receipt. We will put all of your items in a gift bag (unless they are big) and you may pick up your order anytime after the December 12th . We will not be responsible for items left after Jan. 13th.
Items may or may not be available in store, since I will be ordering some items as you place your orders.
Demo December-

Saturday the 2nd, 10:30 - 11:30,
Wednesday the 6th 12-1 &
Friday the 15th, 2 -3 .
Stop in for a Machine Embroidery
demo. Carol will demo Clear Blue
tiles, Chenille & In the Hoop sewing.
Watch all 3 techniques and get a
Poinsettia Jar Topper design from
Kimberbell emailed to you free.
BLOCK OF THE MONTHS (BOM)
Our Block of the Month's have an optional club meeting on the 3rd Thursday each month at 2pm or 6pm, please RSVP for club meetings. Join us for show & tell or just some chit- chat. If you would like help on any of the BOM's please let us know in advance, so we can be prepared at the meeting. All kits will be available on the 1st of each month. Sign up anytime.
COLOR SPLASH
87" X 99" 8-MONTHS
$28.00 PER MONTH
$10.00
registration.
AVAILABLE NOW.


AMISH WITH A TWIST V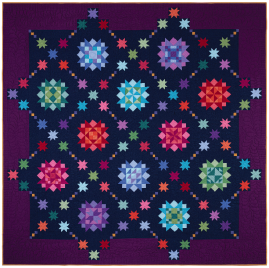 98" X 98" 10-MONTHS
$18.00 PER MONTH
$10.00 registration or
COMPLETE KIT
$185.00
AVAILABLE NOW.
.
VINTAGE SAMPLER
95" X 95" COMPLETE KIT
$240.50
AVAILABLE NOW.
DAWN'S LIGHT
95" X 107" 10 -MONTHS
$10.00 REGISTRATION
BEGINS OCT/NOV
DAYDREAM GARDEN
93" X 101" 8 - MONTHS
$10.00 REGISTRATION
BEGINS SEPT/OCT